A modern approach to combating financial crime
We help you run accurate AML checks in milliseconds, Automatically screen your customers instantly during onboarding and get notified when something changes. Easy to track, scale and report.
Book a demo
Move ahead. Safer, quicker
AML Onboarding
Onboard quicker with automated screening.
Onboarding your customers can become a frictionless experience by simple, automatic and consistent AML screening.
Real-time Data.
False Positive reduction
Full global data coverage for Sanctions Watchlist and PEP.
Learn more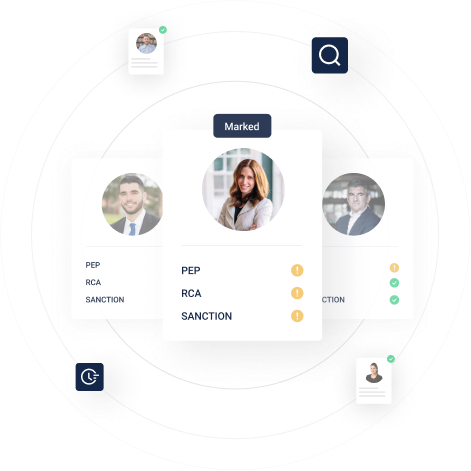 AML Monitoring
Monitor the changes with Webhooks.
Having the correct information at the right time is important. Monitor changes in an effortless and quick manner by utilizing our webhook model which notifies you when changes in your customers data occur. Stay up-to-date and compliant, by tracking changes.
Save time by getting alerts on changes
Automatic audit trails
Better Watchlist Coverage to Minimize your risk
Learn more
Our data
We provide API's with relevant and useful business data. Up-to-date information about persons and organizations in the Nordics to make sure you're on top of things.
Our API's contain data such as, beneficial owners, ownership structure, signatory rights and much more.
See data
Customer Lifecycle
Webhooks for monitoring
Monitoring through webhooks is like tracking the changes that occur in your customers data. When a change takes place in the customers data, a notification is sent to you, informing you about the change. Then you (the professional) decides what to do about the change.
A significant upside of using webhooks, is that no customer directory or list needs to be handed over to us. This makes keeping your customer data up date, secure and fast for a low cost.
Read docs
Pliance 4 step process
We believe in keeping things simple and straight to the point.
 Our 4 step onboarding process proves that.
Get started.
Book a meeting with us so we can understand your AML needs and your coverage requirements.
Pick and Choose.
Pick a coverage plan that suits your business needs and that you can grow with.
Plug and play.
Start integrating our API to your systems.
AML on autopilot.
Get notified when changes occur, logging is handled automatically on the blockchain.
Get started
Why engineers love Pliance

Oscar Holmberg
Chief Technology Officer @ Kvartil
With Pliance, we were up and running in 1-2 days,
immediately eliminating the need to manually update sanctions lists and performing other manual routines.
Actionable Documentation
Documentation that is easy to understand and action on.
Easy API Integration
Smoothly integrates with your existing systems with pre built SDK's.
Powerful at scale
Scale your operations with ease without loosing quality.
Lighting-fast
 customer support
Get helpful support from our engineering team for any implementation questions.
Why Compliance loves Pliance

Matt Broniarek
Operational Manager @ Safello
Safello saw a 90% reduction in false positives after switching to Pliance;
we went from hours of investigations per day to minutes!
Real-time visibilty
With our ongoing monitoring you are always up to speed with any changes.
False Positive Reduction
Reduction in False Positives gives compliance teams more time to investigate real threaths.
Increased efficiency
Structure your workflows to match your organizations best practices. We give the power back to you.
Enchanced Customer User Experience
Create frictionless experiences for your customers with our api's to your existing flow without putting your business at risk.
Ready to get started?
Explore Pliance solutions, or contact sales to create a custom-made package for your business.
Contact sales
Pricing that works for you
No hidden fees, pay as you go or commit to a monthly plan.
Price Plans
Start your integration
Get up and running with Pliance in 1-2 days.
API Reference